Mazda Battery Service: Is My Car Battery Dying?
Learn about battery maintenance in this video!
If you want to avoid getting stranded, especially in the middle of summer, don't neglect car battery maintenance. Along with following a few simple tips to extend battery life, regular service is necessary if you want to save yourself money and stress. Also, when you do need a new Mazda car battery in Phoenix, visit our dealership on Camelback Road. We have low car battery prices that might just surprise you when compared to Walmart and other stores.
What Causes the Battery to Drain in a Car?
Along with normal use, if a car's battery has drained more rapidly than normal, it could be due to something called "parasitic drain." There are many possible culprits, such as bad diodes on an alternator, trunk or hood lights that stay on when the car's turned off, and a short circuit, among many other "parasites" that are known to zap battery power.
When you receive regular car battery service in Phoenix, your mechanic can identity if the battery is draining faster than it should and will pinpoint the issue. You should get battery service roughly every six months, or when you notice that your battery and battery terminals need to be cleaned. Schedule an appointment today if you'd like a checkup.
My Car Won't Start - Is It the Battery or Starter?
If you've experienced the following issues, it's likely due to your car battery and not the starter or another part.
My engine cranks, but the car doesn't start.
I've had to jump start my car recently, now it won't start at all.
As of late, my car is slow to start (engine cranks very slowly), especially in extreme cold or extreme heat.
Nothing is working period: My lights don't turn on and the engine doesn't turn over.
Even if your vehicle is starting, you may want to get a new Mazda car battery if the engine is sluggish/slow to turn over or if you've been having to jump start it. Check our service coupons to see if we have any battery specials before your next visit.
My Car Battery Light Is On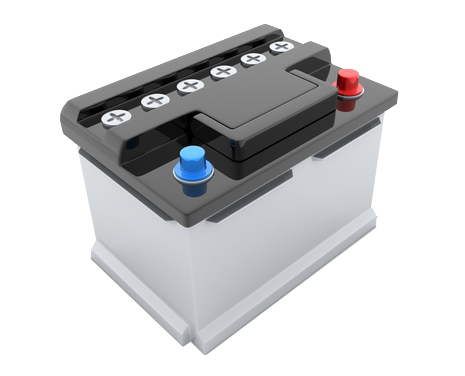 The light indicates that there is an issue with the charging system. The exact cause, however, needs to be assessed by a professional. In many cases, it means that you'll soon be due for a car battery replacement in Phoenix, and if so we can help. You should also visit if you're experiencing any of these signs:
My car battery keeps dying even though it's new
My battery looks swollen
There's corrosion on my car battery
My headlights look dim
My battery is more than three years old
Car Battery Replacement Near Me
Whether you're shopping for a Mazda6 battery or Mazda CX-5 battery, or a battery for any other model in between, our dealership near the Biltmore can help. We'll get you back on the road in no time and we offer car battery prices on par with what you'll find from chain stores. Stop by soon to get service and take advantage of exceptional service, as well as complimentary perks like a free car wash!