Get Ready For Some Serious Revs
People are excitedly talking about the fun new features of the 2019 Mazda Miata, and we'd like to join the chorus of happy campers who can't wait to get their hands on this one. It's a roadster for the ages, all wrapped up in a glossy, handsome package that will be sure to appeal to drivers from more than a few walks of life. Whether you want something snappy or something bold, you've got in all in this package. What's all the hype about, though? Well, that's what we're here to find out!
New Features For 2019
More Power
The 2019 Miata is going to have a few more horses under the hood than in previous years (26 more horses to be precise). You'll get a grand total of 181 horsepower to play around with, and that's nothing to sneeze at when you're looking at a roadster like this. And while that won't win any performance awards, the Miata was never meant to win awards for power, just for being one of the funnest drives on the road. And it's definitely going to be a fun drive in 2019.
Safety Features
More safety features leave more room to enjoy your drive. With the Miata's i-ACTIVSENSE safety features, you'll have more time to enjoy the smooth sensation of driving one of these vehicles. To give you a brief preview, the new Miata comes with Stop Sign Recognition, a standard rear backup camera, and Smart City Brake Support (exclusive to the Mazda line).
Soft Top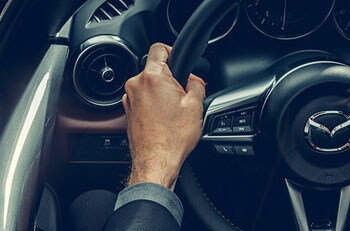 It's not standard on all models, but you can opt for a brown soft top that will add a lot of style to the beautiful design of the Miata. For folks that want the finest of high style, go for the soft top.
Jinba Ittai
You might not quite know what this phrase means, but it's part of the "horse and rider as one" engineering philosophy that Mazda uses when they designed the Miata. Essentially it means that when you step into your Miata, they want you to feel like you are moving as one with the vehicle, and they do this by making sure that the vehicle is more responsive to your commands, more fluid in motion, and more "one" with your sense of fun as you're driving. You don't have to look too deep into it. It simply means that you and your new Miata are going to see eye to eye when you're out there on the road, and you're both going to love the ride.
Learn More or Schedule a Test Drive
2019 is going to be a big year for this unique roadster, and if you've always been a fan, there's no better time to get behind the wheel of the 2019 Miata! Of course, some of you might want to learn a little bit more before you commit to driving one of these home, and we don't blame you. Knowledge is power. If you'd like to learn more about the fun features of the 2019 Mazda Miata, simply contact our dealership today. We'll let you know all the latest information about this upcoming release. And you can always call to schedule a first test drive. Being the first to get behind the wheel of one of these is going to be a huge honor in 2019. Let us help you be one of the first folks to drive the '19 Miata! Call, write, or stop by and see us today.