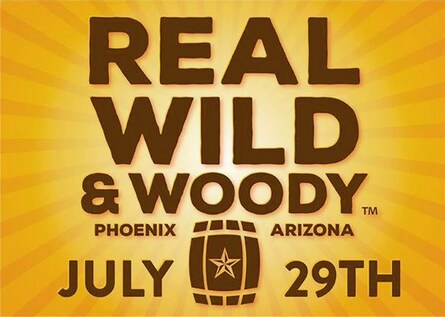 Phoenix Convention Center
South Building
33 S. 3rd St., Phoenix, AZ 85004
On a hot summer day, there's nothing like enjoying a craft beer in a cooled indoor environment. At the Real, Wild & Woody Beer Festival this experience is taken to epic heights. Scheduled on July 29 from 2 p.m. to 6 p.m., the festival offers a wide array of craft brews and other spirits from over 50 esteemed breweries across the Southwest. Visitors can also pair their brews with delicious food from popular restaurants around the region.
TICKET PRICES
For $57, you'll receive 20 beer samples and small bites from participating restaurants. There are also $25 designated driver tickets. Please note that guests may not purchase any additional beer tickets due to Arizona liquor laws.
BREWERIES
From bocks and lagers to IPAs, porters and more, there will be a broad spectrum of beer to sample. Just a few participating breweries include:
Alaskan Brewing Company
Ballast Point
Barley Forge
Clown Shoes
College Street Brewhouse
Dark Sky Brewing Co.
Elevation
Founders Brewing
Four Peaks Brewing Company
Grand Canyon Brewing Company
Helton Brewing
HUSS Brewing
Lonesome Valley Brewing
Modern Times Beer
Mudshark Brewing Company
San Tan Brewing Co.
Scottsdale Beer Company
The Perch Pub & Brewery
For a full list of breweries and other event details, visit the Real, Wild & Woody Festival official website here.