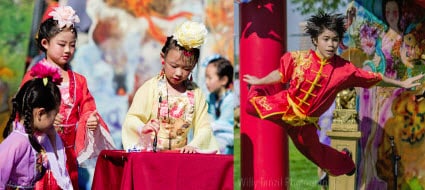 Dates & Hours:
Friday, Feb. 10 – 9 a.m. to 3 p.m.
Saturday, Feb. 11 – 10 a.m. to 6 p.m.
Sunday, Feb. 12 – 10 a.m. to 6 p.m.
Beer Garden Sat & Sun 11 a.m. to 5 p.m.
Location:
Margaret T. Hance Park East – 1202 N. 3rd Street, Phoenix, AZ 85004
The City of Phoenix is celebrating the start of the Chinese New Year at a festive, entertainment-packed three-day event. The 27th annual Chinese Culture & Cuisine Festival gives locals a chance to celebrate new beginnings as the Year of the Rooster ushers in.
Every day of the event is packed with lots of activities and performances, such as traditional Chinese dance, musical acts, dragon and lion dances, rides for children, and crafting at the Arts & Crafts Pavilion. Several interactive tournaments are also being held, including Taiji and Weiqi tournaments, as well as a table tennis open.
A beer garden is also featured at the event, along with a multitude of vendors who will be selling authentic Chinese cuisine. Additionally, if you're interested in shopping, you can browse products at numerous vendors.
Admission to the event is FREE! To learn even more about the Chinese Culture & Cuisine Festival, visit the event website now!